EOS oval (SEN) 4ft sensory mini trampoline
The SkyBound EOS is the first-ever sensory trampoline, that has been designed to provide a safe and stable sensory regulation outlet for active kids, and children with Autism and learning difficulties. Ideal for pre-schools, childminders and soft play centres.
The most stable rebounder on the market
Perfect for Rebound Therapy and children with Special Educational Needs
Robust and rigid dual frame
The EOS was developed to provide families with the ability to help their own children in self-regulation therapy by developing balance and coordination in the comfort of their own home.
The EOS trampoline has a dual-welded frame for superior strength and stability and includes two easy-to-remove handlebars to provide growing children the flexibility to focus on motor-skills development, regulation of their mood, or simply using the trampoline for fun and play. No other child's rebounder trampoline has been built to the same level of strength and stability - this trampoline will last!
The EOS was designed to inspire children's imagination, provide an outlet for their active play, develop their balance and coordination, and help their families create happy, life-long memories.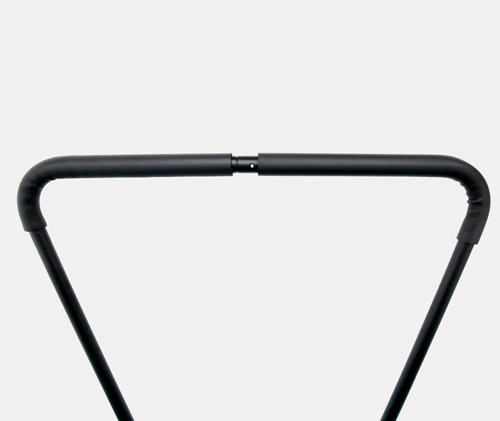 Superior safety
The Eos trampoline includes two removable foam-covered handlebars for balance and support, a thick PVC safety pad, and our patent-pending safety mat skirt.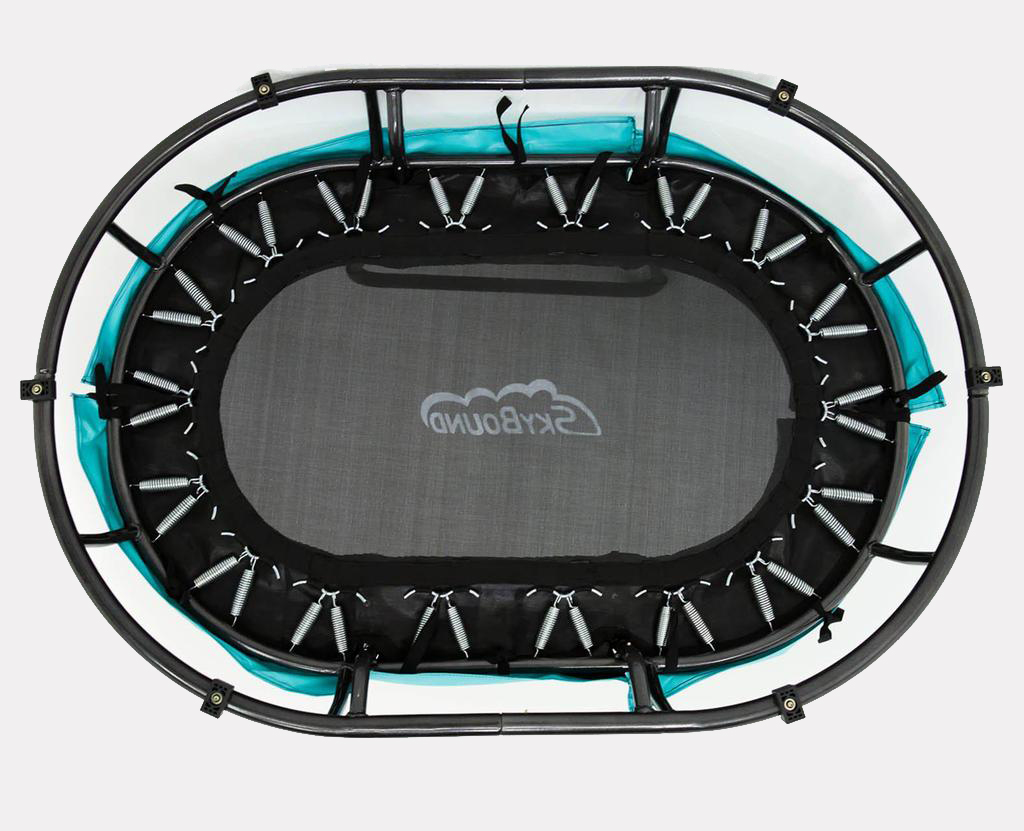 Dual-welded frame
Our dual-welded frame is designed to be the strongest and safest trampoline frame (under 4 ft) for sensory needs children in the industry. The weight of the frame keeps the trampoline level and stable during use. Rubber feet resists slippage and prevents scuffing of non-carpeted floors.
Built to last with a heavy-duty dual frame tube in "galaxy gray" rust-resistant metallic gloss.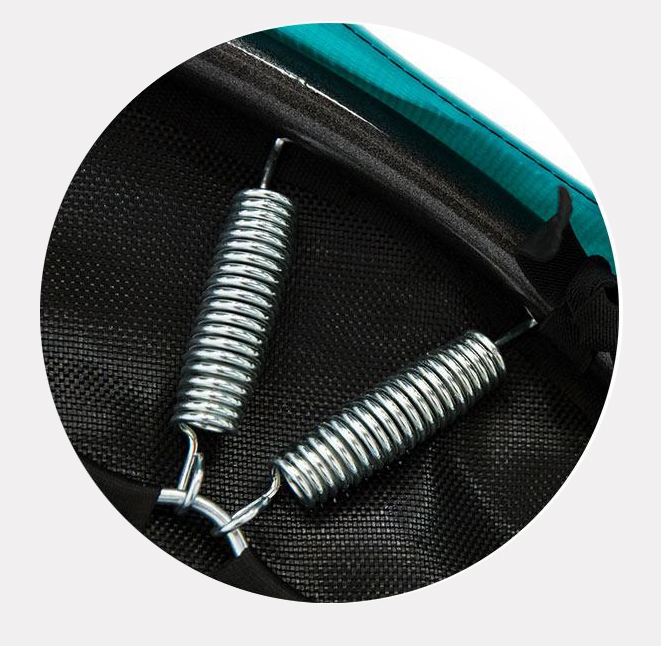 Twin spring fun!
The SkyBound EOS sensory trampoline is the fun outlet for active children with Autism or learning difficulties, giving a bounce that creates the prefect outlet for sensory seeking, while releasing excess energy.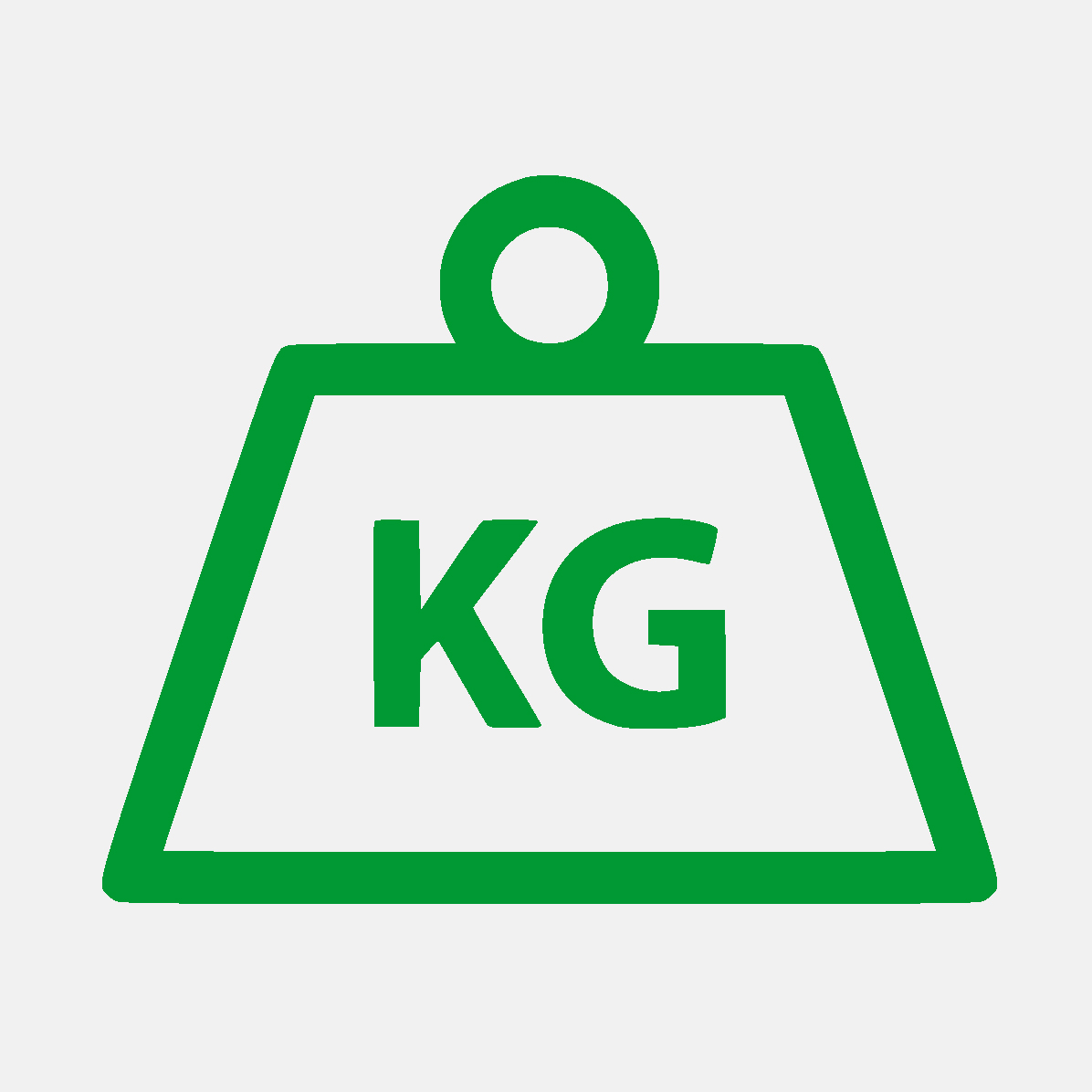 High maximum user weight
Whilst this mini trampoline is recommended for ages: 3-10 it's superior build quality allows an upper weight limit of 68kg.
Supplier

Playgrade Trampolines

Manufacturer

Skybound USA

Springs

| | |
| --- | --- |
| Spring length | 4.5" |
| Spring diameter | 0.9" |




Product dimensions

Bottom: 58.07x39.76"in. Top: 53.15x34.65"in

Frame height

8.85 inches

Handle height

24 inches

Frame material

Galvanized Stainless Steel

Mat dimensions

Outside: 52.75x33.85"in. Inside: 41.34x23.03"in.

Pad colour

Aqua blue

Pad thickness

1.2"in

Pad width

7.5"in.

Box dimensions (L x W x H)

990x550x240mm 39x21.7x9.4"in.

Box weight

20.2KGS/44.4lbs

Mat material

Black PP(Polypropolyene)

Maximum user weight

68kgs

Warranty

1 year on all parts
Eos on average takes 30 min to 1 hour to install. Instructions will be included in the box.
A delivery charge may apply depending on the location we are shipping to and the type of trampoline or trampoline system. Once you have placed your order a representative will contact you regarding any delivery charges.

Please call us on 01276 855600 to get an indicative price.